Monday, February 25th, 2013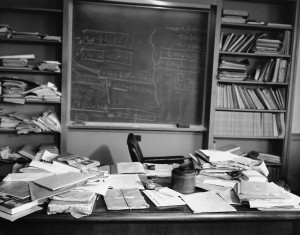 A few years ago I came across a book on procrastination entitled A Perfect Mess. It was a good book, which talked about how for many e-creative types and thinkers a desk that looks like the one below is actually organized chaos to the creative thinker and hell to the organized structured individual.
The desk in the above image actually belonged to the scientist Einstein. It doesn't look too dissimilar to the desk I am working from at the moment. Well I don't really work from my desk because I can't get to my desk. But I have noticed that for the last ten days I've had to leave the messy desk and just focus my energy and attention on the work that needed to get done. It's a miracle that the laptop is mobile so I can literally find clear spaces in my home to relocate to and work from.
I'm aware though that any thoughts or images that occur in my head about my desk even when I am nowhere near it instantly drains my energy but so does the long list of items to be completed on my to do list. In coaching we refer to physical objects in this condition as tolerations. I'm also noticing how my desktop on my laptop seems to be mirroring what the messy desk looks like in physical reality. Not good I say to myself.
The challenge right now is should I clear the desk as a matter of priority? This will take several attempts before a real shift is experienced and involve several hours of work on my part.
Or should I just continue being productive and creative and ignore the mess as much as I can until I can find the space and time to clear?
These are the questions I am faced with on a weekly and even more often daily basis. And I choose to respond differently at different times. This week definitely feels like it will be time to clear the desk, create order and file things away. But next week may see a rapid return to the perfect mess. It's like a dance some days it's the tango and other days it's the waltz.
I feel better today for seeing this image of Einstein's desk. Maybe he too recognized that there are days when it's more important to just get on with it and ignore the mess.
I think there's something exciting and alluring about mess and something calming and affirming about order. I can't seem to choose between the two?
Do I need to?
What's your working environment like right now and how is it helping or hindering your productivity, writing or creativity right now?