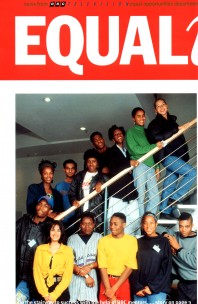 That's Camille and me on the back row. I'm first from the left on the back row and Camille is first from the right on the back row. Photo was taken in 1991 at BBC White City, West London
Back Story
I've had my fair share of mentors and mentees in my life. But in this blog post I share a personal account of a special mentoring relationship that has lasted over eighteen years with three young people (Camile Curtis Y Van Dyke, Tokunbo Ajasa-Oluwa and Kwadjo Dajan) I began mentoring at the BBC in 1991. What follows is a short history of our journey together.
In 1991-1994 I worked at the BBC as the BBC Mentor Project as coordinator of an educational programme for young Black students from Hammersmith College a college local to the BBC centre at White City.
It was an exciting time working on a project that pushed the boundaries. It was the perfect post for me bringing together my earlier background and training as a Youth and community worker as well as my growing experience in training and development.
The scheme matched 12 young people between the ages of 16-17 with Black mentors across the BBC ranging from presenters, producers, technicians and cameramen. Providing one to one mentorship and shadowing from mentors along with a personal development programme the scheme aimed to increase the confidence of young black people to consider careers in the media and the BBC where Black and ethnic minority staff were significantly underrepresented.
It was an incredible pool of raw talent. I could feel and taste that talent during the interview stage. Many were turned away who fitted the bill than we had space for and the majority who were recruited onto the programme have gone on to create good and successful careers and lives in so many ways. I am deeply proud of all of the students that participated on the programmes during my time with the BBC.
Three particular students stood out for me, firstly Camille Curtis Y Van Dyke who was a member of our first cohort and then secondly best friends Kwadjo Dajan and Tokunbo Ajasa -Oluwa.
Each stood out for a number of reasons. As a result of Camille's influence and leadership on the first programme we created a post of Mentor Student co-coordinator, which, saw her acting as a student, liaison officer on our second programme. She immediately connected with Kwadjo and Tokunbo and Toks as we know him became the Mentor Student co-ordinator on the second programme. All three are incredibly close to this day.
Each had an incredible charisma and demonstrated strong leadership skills on so many levels in their early days. They would be the one who would stay behind and talk through the programme with me, pitching ideas and making suggestions. Even though I was still in my early thirties I felt like the older big sister taking care of her younger siblings. I had no doubt that each would carve out a name for themselves in the world of work.
Leaving the BBC
I left the BBC in the third year of the programme but remained in contact with all three. We met once or twice a year for dinner where we spend the whole evening taking turns sharing the twist and turns of our lives and sharing our visions and dreams for our work and careers. We would creatively brainstorm around project and ideas and offer each other the necessary support and guidance.
We were also truth tellers with each other. Feedback was always part of our conversations and we would tell each other like it is knowing which of us was best placed to go there.
In-between our face to face catch up's I would be a listening air on the phone and the one they would turn to when making some of the bigger decisions in their lives. But over time our roles reversed and increasingly they became champions of my work, suggesting and guiding me with their different views and perspectives. It was a refreshing and much welcomed change of role and I loved growing into the new space with each of them.
It was inevitable that they became a part of my personal and family life attending my graduation ceremony as an Interfaith Minister and significant family events. They watched my daughter Aida whom they have known from the age of three grow up from being a child into a teenager and this is where they each became more involved in her life first as supporting friends and then each easing into the role as her own personal mentor.
Passing On The Mentoring Baton
When at sixteen she needed work experience Kwadjo stepped in through his work as a producer at ITV and Channel Four and set up for her to shadow him. She also took part in a round table discussion between a group of young people and award winner theatre writer and actor Kwame Kwei-Armah. The very networking the BBC had wanted to nurture in the industry was now happening in my own back yard.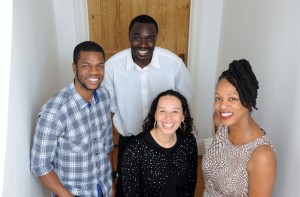 Left to right Tokunbo Ajasa-Oluwa, Kwadjo Dajan,
Camille Curtis Y Van Dyke and Jackee Holder
Where Are They Now?
Camille Curtis Y Van Dyke has built a great and valuable career working with young people and nurturing their art and creative talents as the Social Inclusion Project Co-coordinator at WAC Performing Arts and Media College based in Haverstock Hill in North London.
She is a manager and leader who leaves no stones unturned, will and does go that extra mile and has made a real and significant difference to the lives of young people she works with.  She is full of get up and go, she's bold and courageous and is one for making things happen.
She has two brilliant children of her own and has grown into an amazing woman whom I completely adore and who is always completely affirming of our relationship.
She has lost none of her charm as a young woman or her humour and wit. Whenever I hear her voice on my voice mail or meet with her in person she lights up my day. I love her to bits and she feels like a daughter I could have had.
Tokunbo Ajasa-Oluwa left the BBC Mentor project and co-founded the Origins rites of passage programme for young men of African Caribbean descent, which still operates today.
He went on to peruse his love of journalism eventually establishing his own online magazine for young people Catch 22 a dynamic social enterprise that engaged, trained and championed excluded young media talent.
He is an amazing creative and strategic force and is now Head of O2 and Bauer Media's Go ThinkBig that supports the career aspirations of the under 25's in the UK.
Kwadjo Dajan has solidly earned his stripes in the world of investigative journalism honing his skills in the media and with his mentors from the days of the BBC Mentor Project. He's one of the UK's youngest and rising, most respected investigative journalists whose worked as producer and director on television shows like Airport, Airline and the more recent Mrs Biggs.
He has a gift for sniffing out stories and gets people to open up to him and share their stories when others have been unable to do so. He has amazing rapport and an ability to get people to place their trust in him at a drop of a hat. He would definitely not like me saying that about him. He is the most humble and gracious human being.
His career achieved a recent national and global peak when in 2012 he was awarded the BAFTA Break Through Talent Award for his award winning television programme, Appropriate Adults, a factual drama telling the story of Gloucester housewife Janet Leach, who helped solve the crimes of Fred and Rosemary West.
Kwadjo is responsible for the video clip on the front page of my website.
Becoming Godparents
All three are outstanding and stunning individuals whom I feel honoured to have as a part of my life so much so that in 2003 when Aida turned 18 I decided to appoint her a new set of Godparents to guide her through the passage of young adulthood.
We held a ceremony where twenty friends and family members gathered to witness the new Godparents being sworn in.  Kwadjo and Tokunbo were amongst the newly appointed Godparents and Camille was formally appointed as Godparent in 2011.
Each has taken their role seriously and have nurtured independent relationships with Aida outside of their relationships with me. Each brings something different and unique to the table in their engagement with Aida.
Camille keeps it real and reminds Aida to have fun and stretch those boundaries in life.
Kwadjo is a strong grounding force of common sense and keeping your feet on the ground.
Toks (as he is known to us) straddles between the two offering creative and emotional perspectives that remind Aida that we're all human and nudges towards that creative spark. I have no doubt that the mentorship baton has been now passed on.
Take Away's
None of us have been without our ups and downs, relationships and careers have come and gone but we have stayed together providing a strong current of support and encouragement for finding our sweet spot and being our authentic selves in the world.
I can honestly say that I have learnt an incredible amount from all three. Our relationships remind me that in the dynamic of any mentoring relationship there is learning for both mentor and mentee and at some times if we allow it to the tables change and we enter into a flow of learning that sees roles and titles fade away as unique relationships develop between individuals.
In 2013 I consider all three my peers, no longer the younger ones. Who knows as I grow in years maybe now the tables will turn and I will seek out their mentorship and advice as my business moves in new and different directions. I hope so.
In the next few blog posts Camille, Tokunbo, Kwadjo and Aida get to share their perspective on our relationships over the last 18 years.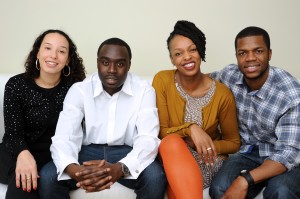 From left to right: Camille Curtis Y Van Dyke, Kwadjo Dajan, Jackee Holder and Tokunbo Ajasa-Oluwa
Photo Credits: Sharron Wallace 2012