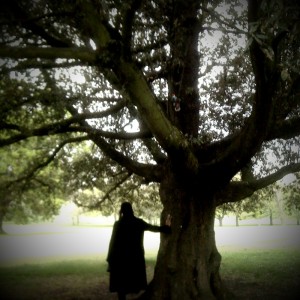 Here I am with Sanctuary in 2009.
In early 2000 I was a dedicated early morning runner, well actually more of a jogger. I would get up at 5am jump into my running gear and head out the door full of energy. On the days when I ran around my local park I would finish off my run by taking time out under the comfort and shade of a huge sprawling Evergreen Oak which stood at the top of the park's highest point.
The tree is unique as it never sheds its leaves and so holds a resplendent crown of leaves all year round. It is stout with muscular branches stretching through the air mirrored by roots below almost as thick burrowing underground occasionally raising up above ground, high enough above the soil to provide you with comfortable seating.
The space underneath the trees branches are wide enough to house over fifty people comfortably. If it rains you're guaranteed to remain dry as a bone under the trees shade.
Once I visited Sanctuary almost every week for an entire year. It was a dark and dismal time in my life when I was truly broken open. But Sanctuary the name I eventually give the tree was the one calming and grounding influence in my life. She was both the daily faithful witness watching over me and the silent listener. She threw no judgments my way and gave unconditionally.
Even today when I visualize Sanctuary in my mind I feel a warm glow inside the kind one feels when visiting a dear old friend from far away.
Though we don't meet often I do consider this tree an old friend from far away who is full of wisdom and in whose presence I find myself returning home to myself.
I know that on days when I am feeling overwhelmed or maxed out that even a quick visit to Sanctuary or one of her tree cousins closest to where I now live will ground and center me.
Remembering my early mornings with Sanctuary remind me of how far I've come and how much has changed since that time.
I can look back to that time in my life and see what seeds planted over thirteen years ago have sprouted and blossomed and most of all I know the strength of my own resilience, knowing that whatever life sends me like this tree I am capable of weathering the storm.
Do you have a special place in nature that has meaning for you?
Photo Credits: Robin Rezende