Friday, October 25th, 2013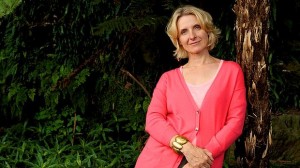 I really enjoy spending time going to talks to listen to my favourite authors talk about their new books and inevitably their writing process.
On Wednesday evening of this week I was not disappointed when I attended the event at the Hatchards Bloomsbury Book Club event with author Elizabeth Gilbert.
To many people Gilbert is the now very famous author of the book Eat, Pray, Love featured on the Oprah Book Club and made into a best selling film starring Julia Roberts.
Listening to Gilbert's talk I was reminded on so many levels that no best selling author is ever an overnight success.
Gilbert cut her teeth working and writing for magazines like GQ and writing fiction and non-fiction books, which did not all, do well before the phenomenal success of Eat, Pray, Love.
Listening to authors sharing their writing journey is always a humble reminder to keep going and that sometimes success is a long way down the road. Not all of your books will sell, some may go out of print, be remained but your job is to keep on writing and to keep on creating. We must be prepared to create a body of work. Nothing we write is ever wasted.
I keep reminding myself that the repetitive action of writing one word after the other whether in my journal or notebook is taking me somewhere. Of course we cannot always see the destination or where we will arrive. But then again wouldn't that make life simply so predictable.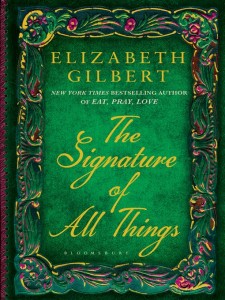 Gilbert's new book, The Signature of All Things is a chunky, whopper of a book. I'm drawn to the subject matter of botany.  There were some great questions from the audience, which included the question of whether she had purposely chosen the name of Alma her main character because of the meaning associated with the name? Turns out she had. In many traditions the name Alma means 'Soul' or 'Spirit'. I test this out by looking up the name Alma in the reference section of my local library and this is what I found, "
Gilbert shared how she writes and plots meticulously on index cards, which she stores in five shoeboxes. She loves the fact these are portable and she can move them around.
I'm fanatical about index cards. If I run out I am scheming how to get to the nearest W.H.Smith stationers to restock. Over the years I've collected literally hundreds of writing and creativity quotes all recorded on index cards.
For my writing and blog posts I source quotes from a range of places feeling no sense of allegiance as to where quotes come from. So a quote acquired whilst reading a British Airways in house travel magazine on a flight can be as illuminating as a quote acquired from a newly acclaimed book. My motto never assume where a great quote can be sourced.
I learnt the hard way when writing my last book 49 Ways To Write Yourself Well to make sure I record the full reference of where quotes originated from as many a great quote did not make it into my last book because in my excitement and haste I neglected over the years to cite some of the sources of where the quote originated from.
I too have taken to writing first and second drafts on index cards. Because of its size an index card feels less intimidating than a blank sheet of paper and the computer screen.
Gilbert shared some other gems about her writing process including:
A wise reminder to women writers who made up the majority of the audience that men are not put off sharing half finished products or ill-informed ideas, which brought about a chuckle from the audience. 90 per cent good is good enough is to put our work out there.
She has 6 years of rejection letters. This is a fact that can be easily overlooked and forgotten about in the haze of publicity surrounding the press and publicity and ultimate success of Eat, Pray, Love.
She always writes to one reader. She believes this helps her writing voice stay intellectually sound.
In the beginning of her early writing career she did not help herself enough as an up and coming writer. She made the audience chuckle as she described how in those early days she would just stare at a blank page hoping the words would miraculously appear.  This she reminded us is a futile act. Gilbert suggests that the more prepared you can be the more you'll help yourself along the way. This means have writing prompts to use as a springboard onto the page. Read other writers on writing and try out some of the suggested writing exercises and activities. Don't just hope, instead act.
Once you start writing, creativity is like a scavenger hunt, you uncover all kinds of things.
Gilbert wrote The Signature Of All Things in four months. She did extensive plotting on her index cards and then once she got going she described the writing process like riding a bicycle down hill. I had the world at my fingertips without walking. She felt she had to write fast so she did not lose her nerve.
On the topic of inspiration Gilbert shared that this is something that she cannot rely on. She described inspiration as the difference between infatuation and a forty-year-old marriage. Our job as writers is to show up no matter how we feel or what our emotional weather map.
As in the words of Gilbert, "Many oysters before you get to the pearls. But getting to the pearls is really worth it."
It was a lovely evening and I actually got to say hello to Gilbert and introduced her to the lovely woman sitting next to me, Sarah who had travelled all the way from Doncaster just to hear Elizabeth talk. Sarah even has the words Eat, Pray, Love tattooed on her arm in Sanskrit.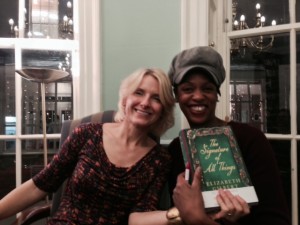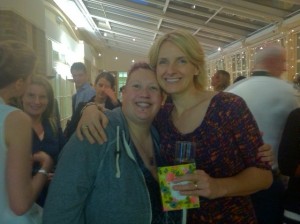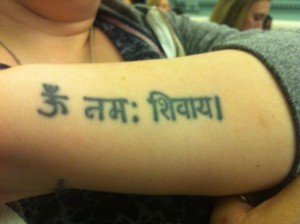 I walked out into the warm October evening air feeling uplifted and encouraged to continue with the writing journey and to support others with their books, writing and creativity.