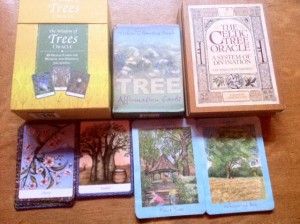 Here are three of the Tree Kits in my collection. I'll sometimes introduce them on writing workshops as a way of connecting with nature and trees and also as a way of learning about the different energies associated with trees along with some of the more ancient customs and traditions of certain trees.
I always find whether I am working in the corporate world or working in the arts or public sector that there's always a genuine and often curious interest amongst the audience whatever rank and profession when we start to talk about trees and what trees mean to us. This is often a good link to health and well-being.
I'll often find myself using the metaphor describing the nature trees in my coaching work or even in creative writing workshops as prompts for example:
Where could you go out on a limb?
What would help you become rooted around this issue?
If you were a tree what shape would you be in right now?
What might you need to shed right now?
In fact I think I'll respond to some of those questions later on today when I have some time to write in my journal
The tree kits featured in this photo include?
The Wisdom Of Tree Oracles Jane Struthers, Tree Affirmation Cards Victoria Sofia Lewis & The Celtic Tree Oracle Colin Murray