Over the next few days I will be sharing a series of guest blog posts. The first will be a selection of writing extracts from the group of writers who attended the Glastonbury Writers Retreat I ran in July of this year.
We gathered two weekend ago at my home in South London for a Writing review day. All the post I will be sharing emerged from one of our many writing prompts we worked with throughout the day.
Enjoy the first of our guest posts from Coach, Facilitator, Management trainer and Three Peaks Walker Lynne Philp.
Morning Pages
Since I first learnt about Morning Pages at the Writing for our Lives Retreat In Glastonbury with Jackee Holder,  I have enjoyed writing the occasional morning piece.  But, in truth, it has been very occasional.  This morning, immediately after yesterday's "Writing for your Lives" Retreat Review day with Jackee, a bright light was switched on for me  – it was one of those moments when something strikes you so hard, that it stays with you forever.
I started to write, slowly……. reflecting on our day at Jackee's lovely home in London.  I was thinking about her beautifully carved table, the stunning photo of Lewis Hamilton and the pretty, coloured lights in the fireplace – all creating a truly, beautiful room.  Coincidentally, I was sat in  my new lounge, first the first time in months, with my new log fire and gorgeous, wooden floor.  Suddenly, my writing started to take on a breath of its own and here's what emerged:
My fire, my beautiful fire
I've been waiting for you for so long
Waiting to see your face
Waiting to feel your warmth,
Wrap around me, keeping me snug,
Keeping me safe.
I've been missing you
All of my life
Looking for your glow
Searching for my light
To show me the way
To live my life.
You are coming now
Winter is approaching
Our log store is full
Ready to feed you
Ready to nourish you
You're ready now
You have your place
In our beautiful room
By my side
Finally, in my life,
My fire, my light.
So, this is the power of morning pages? I have found it now. its about getting you to start to write, to gently wake up your sleeping imagination and creativity. You write and then suddenly, you're catapulted to a new place, somewhere you've never been before. It stretches your mind, first thing in the morning, taking you on a mystery tour before you start your day. Wow!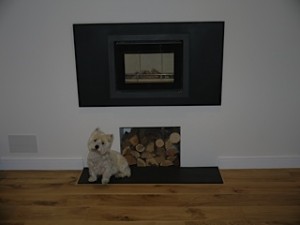 Lynne's Fire and adorable dog Todd.