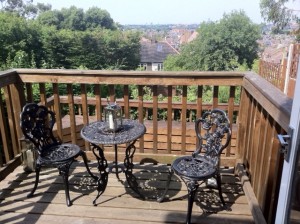 Our final guest post is from psychotherapist and coach Chrystelle Heldire
I wrote this piece when during the Writing Retreat review day. We had group work and individual time to write in a beautiful environment. During one exercise I was not sure what to write about so I looked around and got in touch with how I felt about the garden I was in. I decided to write about it.
The Garden
The garden caught my eyes. It is a 3-part stepped garden. Three parts like the Freudian theory of personality, or Berne's Transactional Analysis. It is not what I want to write about really, I am only mentioning this because I am a psychotherapist and I identify strongly with my profession. In fact I identify with some many parts of me like my Guadeloupian heritage, being born a Parisian, being a Londoner and Essexisonian, being a woman, being Black, being in my 40s although that is a little wobbly, being a writer…
Anyhow, I just transgressed… Let's go back to the garden.
It is a beautiful garden. Kind of a dream garden.  A garden where dreams can happen, and a garden that was obviously a dream. The garden has a motherly feel. Not maternal as maternal is like a function. Motherly is like an attitude and a promise.
I imagine this garden has much wisdom, much knowledge and many secrets. I like the wooden deck I am sitting on. It has two chairs and a metal table that screams intimacy. The wood is inviting and although I can imagine how may great parties have been or could be hosted here, it seems to have a more humble raison d'être. Maybe it has even waited for me all this time and in its homage, here I am writing about the garden.
There is a middle part, introduced by a path made of concrete slabs leading to brick stairs. This part hides itself behind the wooden sister bench and uses it shoulders to lean against a beautiful climbing passionflower plant. And passionate if you wanted to be you could, as it has managed to keep an air of privacy although belonging to the capital. I can only imagine the beautiful summer days being the expression of one's freedom in topless bikini and the winter days being shelter for the strong and resilient. It is fascinating what a space can do.
The third and subjacent part is more modest and dressed in black as if for a funeral.  That could be because the apple tree suddenly died and all around is mourning. Or it could be that this part has not yet evolved in what it is supposed to be.
The third part is not necessarily my favourite, unfortunately I am a product of my environment and I too am a victim of the fickleness of beauty. However it is the most interesting for my soul because it tells me of its potential.
The third part is nothing at all and everything that it could be at the same time. It is infinite possibilities and it is also what it is right now, evolving or mourning. Is it an interesting and full of surprises evolving space or is it a covered area with a dead apple tree pregnant with dying apples. In fact it is both.
How interesting that the third part should be the part the demands more of my attention. It's the most modest, the least functional on this autumn day where the rain has not made up her mind whether to fall or stay in the clouds. Like the third part she is tentative, tells us she is there but does not commit fully. And so, what to say about the garden?
It is a generous garden with its treasure hidden in the bushes. A beautiful garden with its aura of wisdom. A humble garden with its acceptance of where it is. Like the kind of garden which is what it is and does not try too hard. This the way I see it anyway and this is the way it will inspire me for a while.
It could be that I am totally wrong. Maybe the third part has undressed itself to wear its Chanel of garden or maybe… Well actually do I need any maybes? It is what inspires me. I am inspired to embrace all parts of me the modest and the arrogant, the discrete and the loud, the generous and the stingy, the beautiful and the ugly. To the garden I give thanks as it masters the gift of my creative energy.