"Even after its death, an ancient tree continues to provide habitats for wildlife, for decades more"
- Ancient Trees: Trees That Live To A Thousand Years
Many of my coaching clients know how much I love trees. I regularly use trees as examples and metaphors when I'm coaching. When I get time to head out into nature I turn to trees to re-energise and replenish myself when I feel stressed or overwhelmed.
Recently one of my former coaching clients, Fiona Parashar (Leadership Coaching) sent me a picture of a tree she'd captured on camera whilst out having what she described as a Restorative day. "The trees in Bath are wild today," she wrote. I wrote back and asked why this particular tree resonated with her? Her reply, "Its full bloom spoke to me." I smiled when I read her words.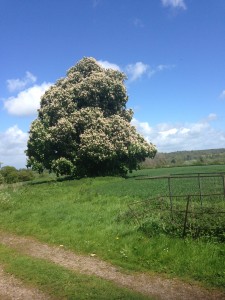 In a recent post on the Coaching Supervision Academy blog executive coach and coach supervisor Elaine Patterson reframed the word resilience to resourcing. She described resourcing as, "creating a bigger energy within ourselves . . . . ." You can continue reading her blog post here
The word re-Sourcing, which Elaine Patterson writes about is a good word to use when I think about what my client and I both gain from our connection and love of trees.
Last week my partner's cousin came to stay overnight. Whilst all three of us caught up on our week in the kitchen preparing dinner she shared how she gone with her mother and sister to an arboretum where they planted a tree for her sister who had sadly passed away the previous year.
The idea for planting a tree had come about because her sister had been cremated and their mum was finding it hard having nowhere significant to go and visit her on a regular basis. So not only had they purchased a tree and planted her, they also planted a time capsule with some of her favourite objects and possessions, which they buried under the young tree.
Rituals are important practices to bring back into the routine of our daily lives. They provide meaning. They offer us moments to touch the sacred, to breath into what is important and allow the rhythm of the ritual to bring us back into true connection. I've watched as rituals have helped coaching clients reconnect to the present, to their lives and most importantly to themselves.
In the past trees held very symbolic places in our communities and in our cultures. In many agricultural communities trees provided valuable food and shelter.
Ancient trees were often a prominent meeting point in many communities. If we consider the importance and focus of the altar in a religious building then many trees were considered places of reverence and worship in nature.
In my role as an interfaith minister I've officiated a wedding blessing under the watching eyes of a huge evergreen oak in a South London Park. And once when I had hit a very dark place in my life several of my friends entering from the four directions joined me early one morning in a healing ritual under the watchful guidance and presence of that same tree.
I really do love trees and I miss the time I would spend really connecting with their presence. I wonder if you feel the same way too? If the weather's as nice over the weekend as it was today then see if you can find a moment to mindfully focus on a tree in your surroundings or neighbourhood.
Why not capture on camera a tree that catches your eye. In the meantime I'll leave you with some questions to reflect on over the weekend.
How have you engaged trees in rituals as part of family events, services and celebrations?
How might you involve the presence of a tree in a future event?
What do trees mean to you?
How have you engaged with trees in a meaningful or sacred way?
What's your favourite tree?