Thursday, August 16th, 2018
A host of movers and shakers received accolades for their contributions to the coaching profession, at this year's
Coaching at Work Awards
.
The award results were announced by editor Liz Hall at a ceremony at the end of the annual Coaching at Work conference in London last month. This was followed by a reception sponsored by the online training provider the 
Wisdom Tree Academy
 to celebrate the awards.
Craig G. Howe from the Wisdom Tree Academy handed out the plaques and certificates to the winners.
Jackee Holder received a Highly Commended Award for External Coaching/Mentoring Champion
Some of the Judges' comments included:
"She's a breath of fresh air, refreshingly willing to stand up and speak out, about diversity among other issues, challenging and inviting us as individuals and as a profession to stop burying our heads in the sand when it comes to diversity and inclusion."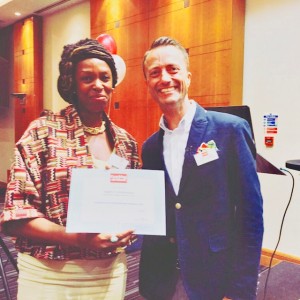 "A commitment to diversity and inclusion is core to Jackee's coaching identity and practice and it greatly influences and impacts the diversity of perspective and understanding she brings to her work. One of the first black female coaches, she's passionate about supporting organisations and the coaching profession to embrace diversity and inclusion, and has been championing the work of diversity and inclusion within the coaching profession for many years"
"She's been willing to speak up about diversity during times when it's been marginalised and ignored by much of the profession."
"Her grounded enthusiasm and presence, cheerful warmth and her genuine interest in those she is in conversation with are immediately apparent. Strong foundation of professional practice from youth and community work with young offenders and young people leaving care, in management and in leadership of a mentoring project matching local young black students with BBC newsreaders, producers and directors."
"Willing to take creative risks in coaching and training and from personal experience I know that she creates professional development spaces that say back to people that they matter as individuals, and that their history matters, as do the different strands of their diversity."
Coaching at Work
 is an independently owned magazine, which publishes bi-monthly in a printed and digital format, in addition to monthly newsletters. It has been going since 2005. It also organises events such as an annual conference and masterclasses. Its global LinkedIn group has more than 50,000 members.