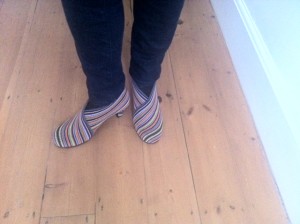 My coaching client arrived for her coaching session in this amazing pair of shoes which, caught my eye the moment she walked in the door. Not only do I love the colours and the style but I also have the same pair of shoes but in different colours. In case you're wondering where to find a pair here's the link:
As we admired her gorgeous pair of shoes she let me know that these were called her 'Inspirational Shoes'. She wears them when she wants to be inspired and feel uplifted. I get it!
I'm curious about what item of clothing do you wear that gives you that lift?
What items of clothing or outfits make you not only look good but feel good?
Do you have a lucky outfit for interviews and important events?
Is there a psychology behind some of the clothes that we wear?
I'd love to hear your thoughts.