On one of my recent walks to my local Sainsbury's I decided to set myself a creative challenge of taking photos of as many trees with red leaves. This quickly turned into a photo assignment of snapping almost any object I passed with the colour red. Within 30 minutes I had at least five juicy images on my camera phone that I quickly turned into visual writing prompts.
Visual Writing Prompts are great to use when you need to warm up on the page before you get into your actual writing. Use them to fire up your creative and professional work. Getting into your imagination and accessing your theta thinking state can be useful stimulation for both creative and professional writing projects. You can do the same to create story lines for your characters for novels and short stories. Observe the visual image, ask a question related to your character and get writing. I've shared some ideas of how to turn an image into a prompt underneath each of the images I collected on my walks. And of course please feel free to make up your own.
I'll share new visual writing prompts over the next few weeks.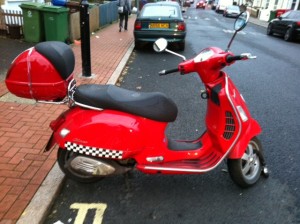 Write a description of the person who rides this scooter
If you were loaned this scooter for a week and it could take you anywhere, where would you ride it to?
Put one of your characters from your novel or short story on this scooter and take them on a journey.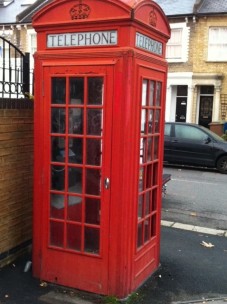 Write about the last telephone call you made from a Red Telephone kiosk?
Tell the story of a telephone call you will never forget?
Describe in as much detail as you can the person who last made a call from this box? How old were they? Who did they call? How much money did they place in the pay phone? What was the last sentence uttered before they said, 'goodbye'?
Write about why this telephone box has been left standing in this location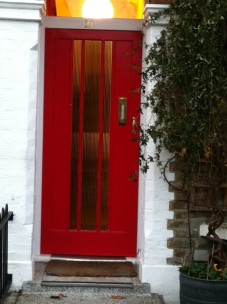 Write about someone who lives here?
How is their personality or characteristics like or unlike the colour of the door?
Who chose the colour for this door and what was the reason for their choice.
Write about an entrance.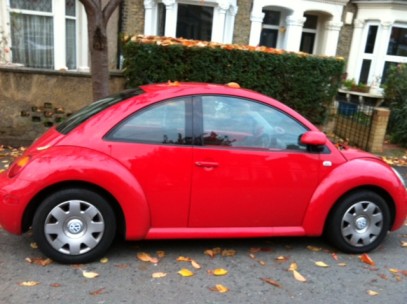 Write a poem or a short children's story entitled the Red Beetle
Use the car as a narrator of a short story or poem
Put one of the characters in your novel behind the driving wheel and have them talk from this place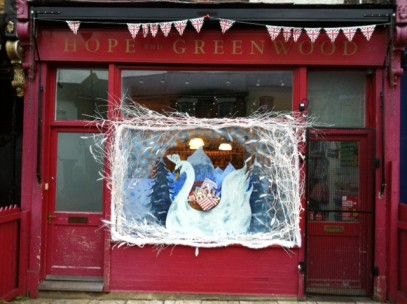 Hope and Greenwood is a sweetshop in East Dulwich where I live selling sweets from the 1960's and 1970's era
Write a personal essay or poem told through the memory of the sweets you enjoyed as a child growing up.
Write a story to accompany the scene in the shop window
Imagine this was 1965. Write a scene describing the people inside the shop on any given day in 1965.