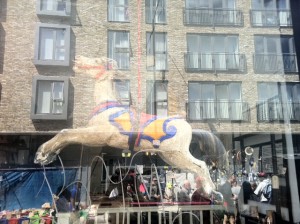 Yesterday I took a few hours out and wandered around Spitalfields market in East London. I got there early before the crowds descended on what turned out to be a gorgeous, sunny day.
Just wandering without much of an agenda was totally relaxing and freeing. I had a full on week and spent alot of time in the company of other people. I was hungry for time with me and it was what my Imind needed, some me time. I really like the idea of wanderign around anonomous surrounded by people and was a great way to.
At one point I sat down at a bench in the middle of the main market square and write. It felt natural and safe. The noise around was strangely comforting and I must have tricked my inner critic into turning a blind eye and into believing that I couldn't write under such conditions.
On my way in towards the main square I passed a graffiti artist at work adorning a brick wall and by the time I had returned his work was done.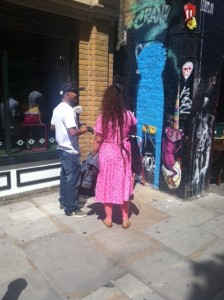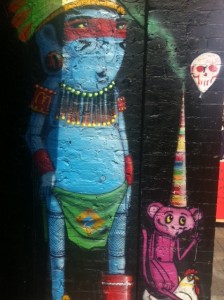 I had gone on what writer and creative writing teacher Julia Cameron calls taking an Artist dates. An Artist dates is an appointment with yourself where you go and visit different neighbourhoods or take yourself of to a museum, art gallery, show or whatever takes your fancy. But you must do it alone.
Wandering allows me to empty. It opens me up making it possible for new ideas to come to my attention with very little effort on my part. My wanderings had warmed me up and stimulated my creative juices. In between wandering around I kept receiving sparks of ideas and solutions.
This week why not book yourself in for an artist date?