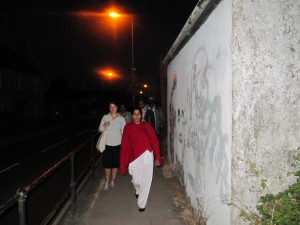 This time last week I was half way through leading our second annual writing for our lives retreat at Glastonbury. Our wonderful writing family, as I now refer to them as, were everything a retreat leader could have asked for. They were inspiring, energising, so full of wisdom and commitment to the writing and creative process we just had a ball.
On our first night as we sat under a huge Oak surrounded by candles sharing our writing commitments for the weekend a badger streaked by behind the group. I was the only one to see her speed run but she was a welcome sign that we had arrived and that were in the right place.
The Silent space set up as part of our time together has proven to be one of the most valuable parts of our retreat time together. It's where we have permission to be with ourselves, to sleep, to walk, to eat or write or just simply be. When we broke silence on the Saturday mid morning some people wished that our time in silence could have gone on for longer. Silent space is one of my favourite parts of retreats whether 'm in the position of running a retreat or a participant I always welcome and embrace the silence.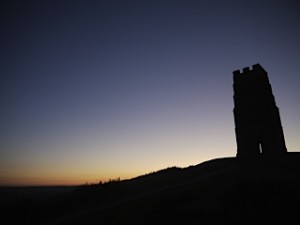 Our 4.30am walk to the top of Glastonbury Tor on the Saturday morning to watch the sunset was the perfect start to our day. The howling wind beat against our bodies and faces as crows circled the Tor and the sun slowly edged her way up the skyline and greeted us full force.
The Abbey House in Glastonbury was the perfect location, with so many delightful writing spots to choose from we spent most of our weekend writing outside in nature, underneath the shade of some of the great trees on the grounds or reading our work aloud to one of the many trees.
The annual retreat is where writers come to replenish. There is a packed programme of writing exercises, with spots and time for feedback and discussion on our writing as well as teaching and tips from me. But our time is also perfectly balanced with time and space to breathe and walk and nourish our bodies and souls in different ways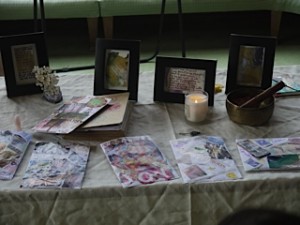 Our time together was full of laughter, connection, love, warmth, healing, and transformation and was over all a spiritual experience for us as a group and community of writers.
We get to do this all again next year but this time in June 2014. Dates will soon be loaded up onto the website and on the Alternatives website at www.alternatives.org,uk
I will also share some of the video testimonials of our time together in a later blog post, so more to come. In the meantime enjoy some of the images shared with permission of our time together.