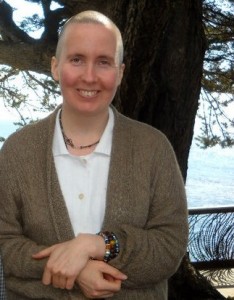 Our guest blog post today is from Zen teacher and practitioner Ji Hyang Padma who currently serves as Director of Spirituality and Education Programs and as Buddhist chaplain at Wellesley College whom I met and worked with a few years ago whilst on a sabbatical retreat at Omega Institute in Upstate New York.
Her new book Living The Season: Zen Practices For Transformative Times launches today and is available from http://www.natural-wisdom.org/livingtheseason.php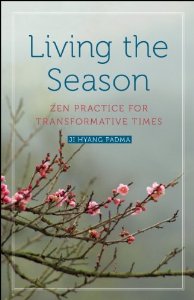 It's a gentle guide of meditations and collection of Zen wisdoms for slowing down and transforming our lives. Her words and writing are poetic.
We invited Ji Hyang to write about the connection between writing and mindfulness for today's blog post. Enjoy.
After a day walking in the woods, a day at the writing desk.   The autumn winds stir an inner restlessness.  There are moments to sit and perceive restlessness; this is a powerful meditation, in which we come face to face with our own low tolerance for discomfort.  In other moments, restlessness conveys a message: Take action.  Write.
I see the work of writing, as seeing clearly so that one is transformed in the seeing, and then transmitting that moment to others.  Words have great potential energy, the energy that changes personal and political realities.  The key is to pay attention.
I have loved writing since learning to read, puzzling out the words in the New York Times. I remember rummaging through my parents' stacks of college books, finding Bury My Heart at Wounded Knee, and sitting down to read that—and the shock and grief which ensued.   I felt a strong calling to look into the roots of these issues: what is the underlying pattern, and what can we do to relieve this suffering?
I am still restless to get at the underlying causes and conditions that shape our personal and collective realities.  For this reason, I travelled to Cambodia in 1998 just before the elections, with the "Dalai Lama of Cambodia", Maha Ghosananda, and accompanied him to South Africa, in 1999.   These journeys have brought home for me a deep sense of the natural movement between contemplation and action.  The proper function of prajna (wisdom) is upaya, compassionate and skillful action.  Right now my activism is taking the form of counseling young women, helping them to trust their own deepest experience, to bring the mind into the heart, to see themselves and their lives with eyes of wholeness—and to see each other with clear eyes and open heart.
Writing, counseling and meditation are all practices of paying attention:  when we see clearly we change, what we touch with our writing also is transformed.  In these practices of departure and arrival, I am a seasoned traveller.