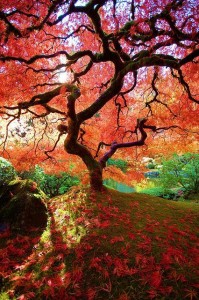 I have a scanner built into my mind that picks up on quotes about trees. I came across this tree quote recently in the memoir, Devotion by Dani Shapiro. Shapiro is currently one of my  favourite writers. I am really enjoying reading her memoir. Despite the differences in our cultural backgrounds and faiths, she's Jewish and I'm African Caribbean and raised Christian, we share so much in common.
I really enjoyed how she describes the trees in her meadow and how she brings the whole scene to life on the page. Here's what she had to say:
"I have become intimate with a stand of trees in our front meadow. Grouped together near a crumbling walk, they are old and stately. On a sturdy branch of a maple extending out toward the driveway, Jacob's rope swing hangs, swaying in the slightest breeze."
She then goes onto write later in the piece as she completes her yoga practice, "All the while, I keep my eyes on the trees. My fixed gaze softens. The stone wall, the sky, the sweep of meadow, go slightly out of focus. This is how I most vividly see the seasons change: in winter the branches are stark, like charcoal slashes against the gray-white sky; in spring, the reddish cast before the buds appear; in fall, the distracting riot of colour; in summer; the lush, verdant thicket. No matter what the season, the trees are bending. They are indifferent to the people who come and go. They were here long before we arrived with our SUV's, our bicycles and rope swings. Their branches are gnarled, knotted, twisted, but still reaching out."
Here's a writing assignment for you.
Describe a tree or group of trees in your locality.
Write about what the trees represent and any relationship you may have or wish to have with the trees. This doesn't need to be a hefty piece. A few lines or combination of words will suffice. Build on the piece over the next week. Elaborate on colours, textures and shapes as ideas come to you.
Bring your tree or trees into glorious life on the page.
Devotion: a memoir by Dani Shapiro click here for more  details: