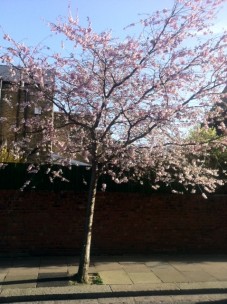 I've decided to post lots more photo's of the trees I come across on my daily travels. I love noticing the trees around me as I go about my daily business and nothing delights me more than stopping to capture a tree with my iphone camera.
Yesterday on my early morning walk this young Cherry Blossom tree waved at me from across the street swaying in the breeze reminding me that spring is here. There might have been a chill in the air but the sight of this young one made me happy, if only for a moment.
I'd love to see images of trees you encounter on your travels. If you're on Twitter how about sharing them on my twitter feed @jackeeholder  or  Tweet #treesonmytravels or email over your pics to info@jackeeholder.com
This weekend keep an eye out for the Cherry Blossom trees in your neighbourhood as they prepare for full bloom in a couple of weeks time. Savour moments in your day by giving yourself a Cherry Blossom visual treat as you move around.
By the way Cherry Blossoms are estimated to peak around April 11-14th hence why my two favourite Cherry Blossoms in front of Honor Oak Park station in South London have not yet bloomed. There's still time I tell myself.
Here's what we can expect to see over the next week or so when these two lovely Cherry Blossoms bloom.