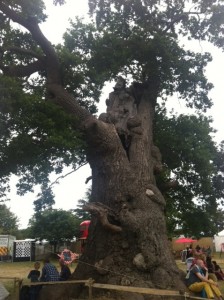 "Every tree is important." – Ted Green
Yesterday I was so pleased that I got to attend the 'How To Look At A Tree' workshop at the Wilderness Festival. I was still working when the workshop started but managed to get into the workshop a few minutes in and I'm so glad I did.
Anyone who knows my work and me well knows how passionate and excited I am about trees. So meeting Ted Green and Jill Butler for the first time was great.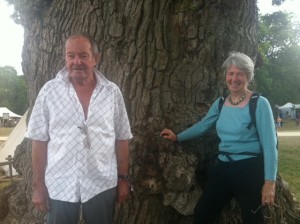 We share a passion of a love of trees. The way they spoke about ancient trees and our need to preserve them as natural monuments was music to my ears. I knew I was amongst my tribe. I learnt new knowledge about ancient trees during the workshop and it rekindled my interest in ensuring that more trees in our neighbourhoods and out in the wilds become protected species.
For years I have gone about speaking one on one with trees across London. They really are the best silent counselors. I've meditated and wrote in my notebooks and journals underneath the huge sprawling crown of my favourite Oak tree that sits on the top of the hill in Brockwell park in South London. In the past as part of weekend retreats I hosted I would lead sacred ceremonies under the gaze of huge Oak trees and only last week I bumped into a couple who invited me eight years ago to officiate a wedding blessing on their wedding day under the watchful gaze of one of the oldest Oak trees in the same park.
What Ted Green founder of the Ancient Trees Forum and Jill Butler of the Woodland Trust (best natural and real co-facilitation I've witnessed in a long time – they were your ultimate keep off the script double act!) reminded me of were the three things to look for that tells you a tree is ancient (over 500 years old):
• Firstly the width of the tree's girth is often a sign of it's age as ancient trees add a new growth ring each month
A shrinking crown growing downwards is a sign that the tree is slowly dying of a well-earned ancient age
Ancient trees become hollow due to the central wood decaying
Ancient trees tend to be 500 years old and more.
A Veteran tree is usually in the second or mature stage of its life
A notable tree is a tree of local importance, or of personal significance. It is likely to be a next potential veteran tree.
My blog contains lots of stories and personal narratives of notable trees that are of personal significance. I loved it when we went out in the middle of the festival amongst all the events taking place and people wandering around to visit what (was what I have now named the Wilderness Festival tree – thanks Jill) was a marvelous specimen of an ancient tree, which is over 800 years old.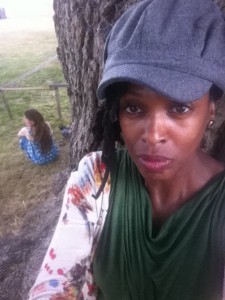 A Selfie in front of the 800 year old Wilderness Tree 2014
Trees have an amazing life cycle and the dying process of an ancient tree could take some 300 years. Trees are resilient, adaptable and extremely flexible. There's a lot we humans can learn form the life cycle of a tree. Ted made a good point that visitors pay money to go and visit Windsor Castle and on the walk from the gates they miss the magnificent ancient trees that they are mindlessly walking by.
People will pay to go visit Nelson's column at Trafalgar Square, art installations and various monuments and statues scattered around the UK. Yet we struggle to give reverence to the magnificent trees that have survived over hundreds of years and are responsible for keeping us humans alive.
This is in distinct opposition to the customs and traditions of many of the ancient cultures across the globe who honoured and celebrated paying reverence to trees. This could be through ceremony and ritual, asking permission to be with the tree or leaving the tree a gift as a way of saying thank you for all you have given.
The ancients knew and appreciated the many usages trees had to offer community from it's wood, to shelter, to providing different habitats for different animals to its sacred and ceremonial energies. In many cultures trees have been community meeting places and important places in village life.
If we think about it wholeheartedly we owe our trees a great deal. Tree's stabilize the soil, store carbon, generate oxygen into the air and I for one would rather do what Wendell Berry writes in the poem 'I Go Amongst Trees', "I go amongst trees and sit still/All my stirrings become quiet ….." Visiting, sitting and being with trees is one way in which I quiet my mind and practice mindfulness.
When I need to recharge my battery it's the Oaks I turn to. Only a couple of weeks ago on a visit to Chelsea Psychic Gardens I watched as a woman stood with her back straight against the bark of a huge tree and read a book. It looked so natural and comfortable. See if you can spot her in the photo below? It's dark because I was some distance away.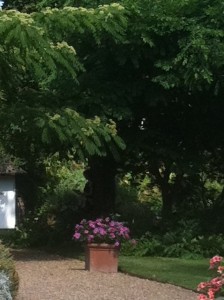 Can you spot the woman in the above photo reading?
At the end of the talk Ted and Jill encouraged us to log trees in our area we believe are either ancient or need to be protected on the Ancient Tree Inventory on the Woodland Trust website which includes a simple recording form to send in the details of your ancient tree.
Here's a link to the page of the Ancient Trees website where you can register trees or get in touch with The Woodland Trust:
In the meantime why not use this glorious weather to make friends with the trees in your neighbourhood.
Where are your ancient tree's in your neighbourhood?
What are the notable tree's of personal significance or local appreciation?
What trees would you name as the Veteran trees in your area?
Trees appreciate being acknowledged and appreciated. They ask for so little and yet give so much. Enjoy and take care of one of nature's natural monuments. Thank you Ted and Jill for a great talk and field trip as part of the Wilderness Festival 2014. I'll be in touch.