Monday, February 15th, 2016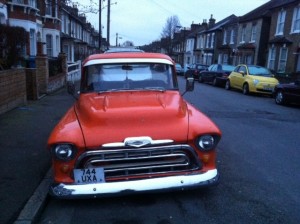 On my early morning walk today I came across a few visual sights I just had to capture on my iphone. In the first one I was struck by the vibrant sunshine orange of the vintage car and couldn't stop thinking about who owned such a succulent car.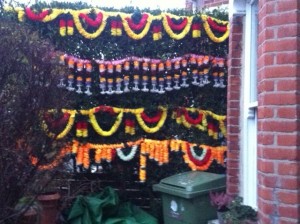 I was so busy taking the photo that it was only when I walked back up the same street that I discovered that perhaps the owner of the car or someone who they lived with had also adorned the hedge of their home. I was very intrigued by what the adornment was for. In my mind it looked like some kind of Hindu celebration. Again the visual imagery got my creative juices flowing. Who, why, what did it all mean?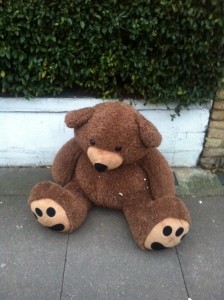 Then as I was heading toward the final ten minutes of my walk I looked down to find this beautiful, huggy teddy bear someone had left outside their home, I'm assuming for someone to take and give it a good home. It was gorgeous and in very good condition. I wondered about the child who it no longer had a home with. Or was I wrong to assume it was a child and maybe had a home with an adult? Again, if I were a fiction writer and maybe I am, I would have been writing about the family who orphaned the giant teddy bear and why. Also penning a short story about the new home it would soon, I was sure, be welcomed into.
Sometimes a photo essay becomes your journal entry like mine did today. My captured photos told the stories of the start to my day. How about capturing photo's of your day and see what intrigues you?