Thursday, December 15th, 2016
We rely on trees for the paper we write on and for the oxygen in the air we breathe. We need trees probably more than we sometimes care to admit. Deepening your connections with trees can be calming and oddly reassuring.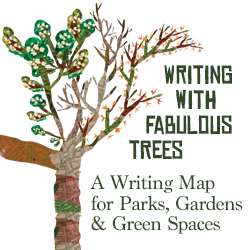 Trees have long inspired many poems, novels and short stories of writers in many ways. These creative writing prompts are devised to create a longer conversation about trees from your past and to stimulate you to indulge in a more reflective inquiry into how engaging and writing about trees can help you develop greater intimacy with yourself and your characters in sometimes surprising and unexpected ways. This writing map tucked into a pocket or a rucksack is the perfect companion on long walks in nature or whilst you are strolling through the city.  You might be inspired to take a photo of a tree on your travels, slow down and experiment with drawing a tree to writing stories or personal narratives stimulated by the roots of your own family tree? The prompts and quotes generate learning and insight about yourself and where you come from as well as the opportunity to learn more about the host of benefits trees have to offer. Writing With Fabulous Trees will encourage you to be more observant about the trees in your neighbouring or surrounding parks and green spaces and even the trees in your street or in your own private garden will take on new and different meaning.
Order Now £4.50 plus p&p
Text and writing prompts by Jackee Holder in collaboration with Shaun Levin and with illustrations by Flazia Felipe.  The A3 map (297x420mm) folds into A6 (105x148mm, postcard size), and is printed in England. NOTE: Some content may not be appropriate for writers under 16