Sunday, May 31st, 2015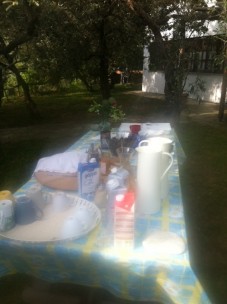 For the next six days I'm going to be posting a blog every day whilst away running the Inside Out Writer's Retreat in Greece.
It's all part of a writing challenge each of the writers on the retreat will be going through. Each writer will determine and set a personal writing challenge for the retreat. Each has challenged themselves to stretch beyond a writing goal they feel comfortable in achieving.
A few years ago someone reminded me of this excellent quote, 'Progress, not perfection.' This has been a liberating quote for me when I realized that part of becoming a working writer is about focusing on the progress made each day through writing practice. I can't stress how much your development as a writer is based on developing the habit of a writing practice. There's little point wanting to write a book if you don't get into a regular habit of writing to begin with.
Writers who write their first book, without little in the way of writing practice behind them, who then have success with the book are far and few between. For the majority this is not the case and we have to do the work. We have to put in the time. We have to write even when we don't feel like it. We have to deal with rejection and failure. We have to make time to write when it doesn't feel like there's time to write. We have to be wiling to get down the shitty first draft and not just stop there, but also get writing beyond that.
When all is said and done you can't really become a writer you respect unless you give yourself the space and time to write and do it regularly. Over the course of the next five days I plan to take each of the writer's on a journey that will connect each one to the core thread of what it is they want to write about, to dive into beginning or extending some of that writing and to discover ways in which they can keep writing when they're back home.
We've had an almost hundred percent re-booking for this retreat so we know that what happens here in Greece in making a difference in some important and valuable ways in writer's lives. In the course of the next five days I'll be sharing insights into some of the exercises and activities we get up to over the course of the week.
The sun is back out after a few days of rain and a drop in temperature but it's nowhere as hot as when we were here last July. Now that probably is a good thing. With less of a pull to the beach and the sea the writers can get down to business.