Friday, May 31st, 2013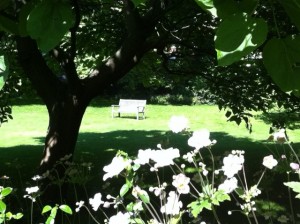 In Wednesday's post I wrote about the importance of non-negotiable Self Care practices and why these need to stay on top of our list especially during those times when we feel overwhelmed and stressed out.. Below see the practices that made my Top Five Non Negotiable Self Care Practices that help me stay on top when the going gets tough.
Jackee's Non Negotiable Self Care Practices
1. Journal writing first thing on the morning is one of the finest ways I know of clearing my head and allowing me that inner space to connect with myself wholeheartedly.  I can write anything I want on the page without repercussions. There's no need to censor what I write and there's no one looking over my shoulder to judge. It often leads to me feeling better and clearer.
2.  One twenty minute walk at least once a week gives me the focus and clarity I need when my mind feels crammed and the to do list feels unmanageable. Walking is grounding and a natural way for me to get more present with the moment. When I walk it often takes me very quickly out of my head and puts me into my body. My senses become more fine-tuned and I will become more observant and conscious.
When I am more present with the moment then I can step back from what ever is stimulating and engaging the stress to gain new insights and perspectives?
Walking I become much more acutely observant of my environment my creativity surges and I move to naturally take photos of what captivates me as I walk.
Quite a lot of cross-referencing and free association happens too when I walk. By the end of a twenty-minute walk a knotty problem unravels it's self and is virtually solved.
3.  By having at least one evening off a week no matter how stressed out I maybe from texting or emailing restores my sapping energy. Of course easier said than done but how great it feels when it happens. It's great to give the mind space to rest from the electronic overload we go through everyday and it's vital for our health and psychological well-being.
4. Promise yourself at least one early night to get to sleep by 10pm. A few nights ago I broke the remote for the bedroom television set. So now I'm enjoying the space reading in bed and staring at the beautiful lampshade that adorns our ceiling. Sleep is a great stress reliever and will return us to our worked energized and refreshed.
5. Being kind to myself and giving myself permission to meditate for at least 10 minutes each day is like taking a magic pill. I've now taken to meditating in-between the gaps in my day. I go about my day consciously taking in long, swirling gasps of deep breaths. It feels like manner for the soul. I find the practices of mindfulness and meditating deeply nourishing and rewarding on so many levels. It leaves me feeling calmer and more focused and provides instant relief.
What would go on your list of 5 Non-negotiable self-care practices that would stay in place when the going gets tough?