Friday, April 26th, 2013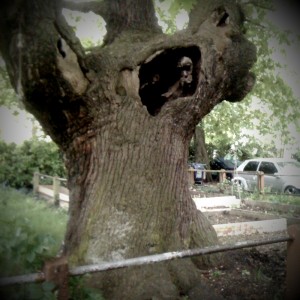 The tree I mention at 40 Josephine Avenue, SW2 (I know – Is that really a face peering back at us?)
The Perfect London Weekend: Radio Interview with Robert Elms.
Click here to Listen JackeeHolder_Interview
There's nothing like a good old down to earth conversation. I was lucky to have one of those a few Saturdays ago when I was a radio guest on Robert Elm's Lovely London Weekender Show on BBC Radio London. Click the link above to listen. It's really fun.
Part of our conversation included sharing what I would do on a pleasure filled London weekend. I talked about all the different meals I would have (food is very important to me), the walks I love to take in nature (I love nature and London's great parks) and my adventure on a three-seated motorbike visiting the sites and homes of many of London's greatest trees with one of my favourite tree photographers and writer Thomas Pakenham. This really chuckled Elms.
During our conversation Robert shared a story with me that reminded me of how our stories are so interconnected. I talked about an idea I had for a television programme where you would research all the people who were still alive who over the years lived in the same house obviously at different times and bring them together for a big reunion and history of what it was like to live in the house. This was after finding out that I wasn't actually born in a hospital as my lovely Mum had informed me but at no 39 Jeffrey's rd in Clapham, London.
This prompted Robert to share a similar kind of story. It was a year after his Mum had passed away and he found himself in a part of London, Pimlico he wasn't familiar with. But on seeing the name of the street he was standing on realized because he had been dealing with his mum's affairs for the last year that he was actually standing on the very street she was born in. To top that he was in front of the house where she was born. Next thing the door opens and the present occupier comes out and in a few minutes Robert is invited inside to take a look. There are just some stories we can't make up and I believe these stories are mirrored all over the world.
I went on to share with Robert how I'd come across a similar story in Real Simple magazine several years ago that I'd kept. It was written by A. Nanette Ansay and was a personal essay entitled, One Hundred Acres. Her grandmother had died in 1998 and her farm was sold to pay expensive medical expenses. The new owner remodeled the house but had made it clear that any of the author's relatives – more than 200 people were free to wander around the orchard and the woods. But none of the relatives had taken up the offer.
" In our minds, the house is exactly as it was. The barn smells of hay. The out buildings are intact. The flower beds are bursting with colour."
" Last spring my Uncle Artie, plowing in a nearby field decided he'd run up to my grandmother's farm to get some water. To his surprise the door was locked. But he went around to the back where my grandmother always kept a spare key, removed it from the beneath the stone, filing a glass of water and let himself into the house.
He was standing at the sink, filing a glass of water, when it dawned on him that the plates in the sink were nothing like my grandmother's. the entire sink, in fact, was different. So were the curtains. The furniture. Even the floor.
That's when he heard a man's voice say. "Uh, excuse me?"
Uncle Artie turned, and the present snapped back into place. My grandmother was gone, and he was in a stranger's house.
Around the same time I'd discovered a similar story by Paul Auster which I know I have stashed somewhere in one of my files. I don't think synchronicity strikes once but several times over. Seems like our stories are intricately connected and intertwined.
Do you know of a similar story or stories?