Wednesday, March 13th, 2013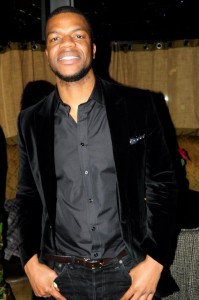 This is the third in the series of inner-views on Mentoring. This time we hear from Tokunbo Ajasa Oluwa who is now Head of O2 and Bauer Media's Go ThinkBig that supports the career aspirations of the under 25's in the UK.
In this inner view Tokunbo shares his reflections on his journey over the course of our mentoring relationship and his time at the BBC.
What is your first memory of meeting Jackee?
My first memory was being struck at my interview by the powerful aura and presence Jackee has. I remember thinking she doesn't seem like the average BBC employee and just had something quite extraordinary about her. Once I got onto the programme I could feel and knew I had just begun a life defining experience.
What did you learn from your time at the BBC?
Whilst there I learnt about how the different components of the organization worked. I learnt that I had a real passion for working in the media and being creative. I also learnt about the dedication it takes to make such ambitions a reality.
How would you describe your relationship over the last 18 years?
I would describe it as a safe and nurturing space where I can be totally vulnerable yet at the same time empowered. It is a real and rare relationship that has depth, substance and love. Regardless of how much time goes by between interactions it always provides me with the same positive feeling.
What has stood out most about our time together?
I think what has stood out to me is that Jackee has ALWAYS been there for me. Whether we meet in person or over the phone or email or via one of her beautiful hand written cards…she is always there.
How would you describe your relationship with her daughter Aida?
I love Aida dearly and when we do get to spend quality time I try my best to be a sounding board for her, the same way her mother has been for me over the years.
I give my opinion when she seeks it and I try to give her insight to how I went about tackling certain life decisions. Aida has grown into an amazing young woman and I'm so proud to be part of her life.
What difference has mentoring made to your life?
Mentoring is something that I simply swear by. It has made a huge difference in my life. It's provided the guidance and encouragement to challenge myself to achieve. Following my first experience of mentoring on the BBC project, within each chapter of my life I have recruited an additional mentor to support me during that part of my life journey.
What would you advice young people to look for in a mentor?
Look for someone that has integrity. Someone that is of relevance to your ambitions and a person that inspires you. Also a person that will challenge you to explore beyond your comfort zones.
What do you believe to be the most important qualities of a great mentor?
To be a good listener,  demonstrate empathy and the ability to encourage critical thinking and motivate.
If you had a chance to do anything differently from your life over again what would it be?
Probably apply myself more during my years in education.