Monday, January 28th, 2013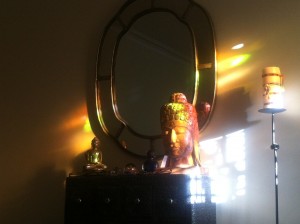 On Saturday we held the first of the Writing With The Senses one-day retreats for writers. A lovely group of writers gathered in the calming space inside the Yurt on the grounds of Quiet View in Canterbury. Over the course of the day the writers plunged into a series of Writing With The Senses practices designed to crack open their writing.
Using the Writing With The Senses e-book as our guide the group of writers faced their fears, doubts and anxieties about writing as they received a mixture of coaching, writing insights and tips.
One thing all the writers present had in common was the presence of the inner critic. Smart and often cunning the inner critic takes shape in many disguises or characters, showing up in a myriad of ways writers hold themselves back.  From feeling that their story was not worthwhile, that they had to write perfect pieces first time (a complete myth), from who do I think I am to want to write a deck of Oracle cards.
We laughed together as I suggested that each writer's inner critic was simply in the wrong job. The inner critic's original job the one, which they are well qualified for is at the stage of the writing process which requires editing, re-writing or polishing stages. But so many writers having experienced criticism way before they were ready for it at too early an age and often at the fragile and vulnerable points of experimentation meant many ended up with wounds carried over into adulthood.
This idea of the inner critic being wrongly assigned job duties resonated with the group and we laughed even more when I suggested that each writer could personally assign the inner critic a new post one where they would be fully occupied until their rightful services were called for.
I shared an example of my own re-assignment of my inner critic. I explained how she had recently been head hunted for a new post as Global Head of all out of order traffic lights around the world. Of course she was made an offer she couldn't refuse and we parted company amicably. Last I heard she was rushed off her feet with all the demands from her new role that she apologized for having little time to check back in on me.
But I'm not complaining. Her absence has created a noticeable and remarkable shift since her new posting. I'm far less cautious. I put things out there even when I think they're far from perfect and I'm loving the new waves of creativity and inspiration that's sweeping across the entire body of my work.
So where will you re-assign your inner critic to? Don't hesitate. Explain that his or her services are no longer needed right now but he or she will be called upon for short contracts that have clear time lines, boundaries and contracting that clearly define the role and requirements during the editing and revising stages of your work. Explain that her role and responsibilities will be fully explained and that she will be released from duties as soon as her job is complete.
The size of the group meant that writers received individual coaching and feedback and no one was overlooked. Each writer left with valuable feedback on their writing from their peers along with a plan of their next writing steps.
Feedback from Saturday's workshops included:
Small is beautiful
I valued the sensitive, creative and insightful exercises, which were affirming
Skilful leadership
I felt I achieved the freedom and permission to feel comfortable to put pen to paper
Felt very indulged by having a small and intimate group
Very well presented
A wonderfully easy day to be part of and a privilege
Our next workshop at Quiet View is on Saturday May 18th. This time of the year spring is fully awake from her winter slumber and is an ideal time to really be with the land and nature at Quiet View. It's your opportunity to treat your writing self to a day of nourishment, indulging in the senses as a way of deepening your writing and cultivating your writing voice.
Our package includes a follow up coaching session and is a great special offer of £97.00 for the May 2013 workshop which includes a 30-minute follow up coaching call. Bring a friend and you both get the workshop and coaching for £150.00. Click here for more details
Once you've attended one of our Writing With The Senses workshops you're free to attend one of our 2013 dates for free as our guest.  Recommend a friend to Writing With The Senses and you'll win a complementary 30-minute coaching call with me as a thank you gift.