Friday, November 30th, 2012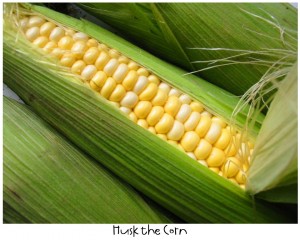 Friday's poetry prescription is more of a musing. A lovely example of how one creative writing tutor generated the writing flow with one of of his writing participants by using something physical as a writing prompt.
"Once when I was working in a creativity worship in Iowa, an older woman wanted desperately to write poetry about her youth in rural corn country.
I asked her what she used to do that she would like to write about. Among her answers was "husking corn".
I told her to wait and I dashed out and bought a half dozen ears of corn in a supermarket.
When I returned I had her sit as she used to and encouraged her to visualize the setting. With her eyes closed and sitting as she remembered I had her husk corn.
In less than ten minutes she produced her first poem.
Within an hour she had written nearly a dozen".
Bob Samples 
http://judithpordon.tripod.com/poetry/how_to_write_quotes.html