Paper Therapy: Online Journal Writing Course
Map Unavailable
Date/Time:
Date(s) - 28/09/2015 - 16/11/2015
8:00 am
Categories:
Online Course

I'm on a mission to grow a growing tribe of journal writer's world- wide. One of the reasons for my deep commitment to journal writing is because I find it easier to be clearer on paper first before I'm in a face-to-face conversation.
Secondly I have really strong memories of a time on my youth when I couldn't afford therapy or counseling and my journal became my best friend and therapist.
Back then I used my journal to help me process and arrive at a place of genuine understanding of difficult and complex emotions and feelings. Over time as my journaling practice grew I've found the process of writing and recording in a journal or notebook a rewarding and resourceful way of finding out what I really think and a great way of bringing to light my goals and aspirations which so easily get overlooked when we're busy and rushing around doing everything else but addressing those very things that give our lives and work meaning.
In 2013 we launched our Paper Therapy brand and in 2014 we launched Paper Therapy our online professional and personal development programme using writing and journaling as an affordable and holistic self-development tool.
In a multi media six-week online class I'll guide you through a series of multi media journaling and writing learning activities posted three times a week on Monday's, Wednesday's and Friday's.
The course has six central themes:
Setting Up A Regular Journal Writing Practice – Creative and fun ways to engage with your journal or notebook
Knowing The Self From the Inside Out – Journaling activities which amplify your core strengths, resilience and what makes you uniquely you
Stillness, Silence and Solitude – Discover through a series of journaling prompts and practices the importance of mindfulness and breathing space in developing your resourceful self and building and growing your business and your leadership
Purpose, Passion and Power – Creative and challenging journal activities designed to stretch and enhance your business, relationships and career
Relationships With Others, Endings and Closure - Journaling exercises to improve your communication and connections for the better, Building on rapport, presence and personal impact
Evidenced Based Research on Journaling and Therapeutic Writing – Discover the abundance of research that confirms the life enhancing psychological and physical benefits of journaling and therapeutic writing including mindfulness, emotional intelligence and stress reduction
Chill Out Week
On week four we take a week's break so you can catch up and integrate the materials so far as we prepare to continue with the final three weeks of the programme.
Each set of lessons is multi layered meaning you can do as little or as much of the lessons as you like bearing in mind the deeper you dive the more you will take away from the programme. But also keep in mind that taking it slow can be just as rewarding and fruitful.
The course is ideal if you:
Find yourself feeling overwhelmed and would love to find an easy, organic way to slow down and get back on track with your goals and aspirations.
Success doesn't appear to be all you thought it would be and you'd love to connect with what would make you feel more alive and fulfilled.
You have ideas you want to manifest or make happen but never seen to find the time to get things off the ground.
You long to get back in touch with the person you believe you really are
You want to use journaling and therapeutic writing more in your work and would love to learn lots more ways of journaling as a tool for self coaching and self development
Coaches, therapists, senior lecturers, artists, body therapists, probation officers, librarians, social workers, graphic designers, small business owners and senior leaders have joined the Paper Therapy journey.
Register
Come and join us for our next class of Paper Therapy.
Class dates: September 28th – November 16th 2015
£69 per person until 28 September 2015 and £79 from September 29th 2015
What you'll need for class:
A journal or notebook of your personal preference
Lap top or tablet (if you prefer digital journaling)
Pen and coloured markers, glue stick,
collection of magazines for our collaging activities
Learn About Jackee and Her Journey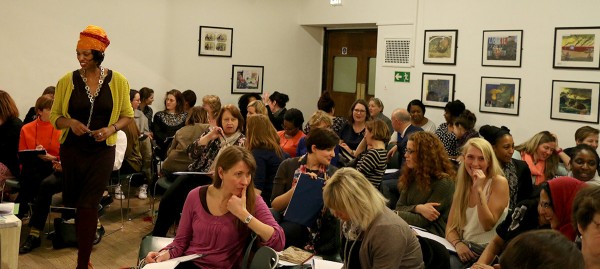 Questions about the programme?