Friday, July 11th, 2014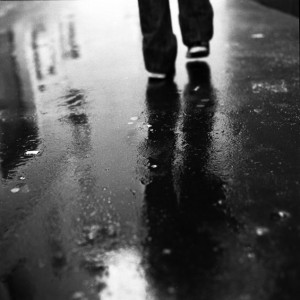 credit Chobonaut
This morning despite the pouring rain I set off on my morning walk. I did look like I was dressed for the North Pole with two hoodies on tied up as far up my neck as possible.
The rain was heavy and the walk was a soggy plod up the hill and then onto the main road as I walked the route that would take me around 50 minutes back home.
Whilst walking I got lost in my thoughts and one of those thoughts was how often I don't feel like writing and that it regularly feels sluggish and slow and doesn't make much sense. A bit like how I was feeling in the rain this morning. But once I got into my stride, despite the rain pelting down I began to not even feel or notice the rain.
Instead I became more aware of my environment. My nose tingled at the woody scent of the man's aftershave who walked past me at the bus stop. I began turning over a difficult personal challenge I need to try and resolve between family members and I smiled at the numbers of people I passed without coats, jackets or an umbrella in sight who I guess have some secret weather forecast that the rest of us know nothing about.
Sometimes writing feels awkward and clumsy to begin with. You definitely don't feel like doing it but you hit the page anyway. But even then nothing you write seems to make much sense but you keep going and then at some point often when you least expect it you hit a word or sentence or maybe an idea that contains a seed of something, that leads to another thought or idea. And like I experienced on my walk this morning you start to loosen up.
About ten minutes into my walk I unzipped one of my hoodies. I'd started getting hot and my pace quickened. At the same time without any deliberate effort I came up with an idea for the family dilemma. I'd found a groove despite the rain and the damp weather.
For years writers have been telling us that rough drafts work. Rough drafts get us going as choreographer Twyla Tharp commented on in her book, The Creative Habit, "Starting is not the same as beginning." But too often we're over ruled by the cultural pressure that sends out the message that from the word go we somehow need to be perfect on the page, first time round. We stress ourselves out by believing that those first rough drafts need to arrive on the page as polished pieces. Nothing could be further from the truth.
Messy, incoherent writing is often what gets us going and is the place we start from that will eventually if we persevere and stay with it that leads to a finished article, that post for your blog, the first chapter of a novel or short story, the report for work or an entry in your journal or notebook.
If you'd like some support with how to get going with your writing, or how to stay with it then over the summer there's opportunities to attend the following workshops with me where I will share tips and techniques for getting starting and staying on the page.
On 24th July I'll be leading an evening workshop entitled from Zero To Hero click here for more details: https://www.eventbrite.co.uk/e/from-zero-to-hero-how-to-start-writing-with-confidence-with-jackee-holder-tickets-12164637759?ref=estw
On August 8th I'll be in Oxford leading a Paper Therapy workshop at the Wilderness Festival http://www.wildernessfestival.com/programme/now-live-events/ One on one slots with me are also available at the festival.
Finally if you'd like to spend a day with me I'll be leading a one day Write Yourself Well workshop (based on my book 49 Ways To Write Yourself Well) on October 11th for Alternatives http://alternativesevents.org.uk/event/jackee-holder-write-yourself-well/